To move forward GuruDAO needs a treasury to manage, and build all the wonderful things members can propose. And step one is ensuring that the treasury gets filled. There are a few options when it comes to bootstrapping token liquidity but a recent poll by 0xMaki shows the web3 community prefers Balancer LBP (Liquidity Bootstrap Pool) as the most fair, effective & best usability for participants.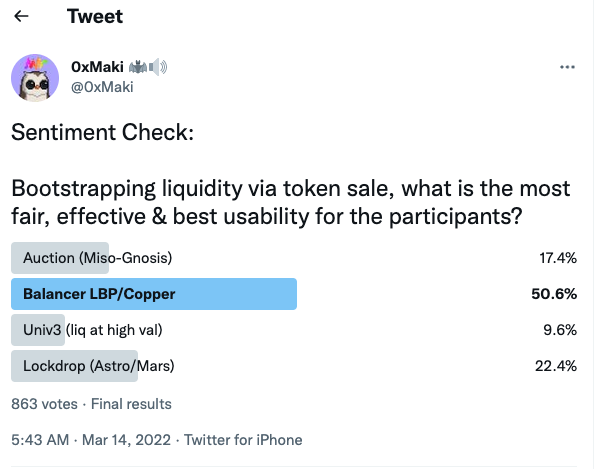 With a Balancer LBP, the pool is able to dynamically change the weighting of the token pair over a certain period of time. With the majority of pools requiring a 50/50 split from token A/B, the dynamic Balancer LBP has advantages. The first being that the sell pressure from the change in weighting creates a generally agreed upon market price. On top of that, since the LBP starts with a high price, it disincentivizes bots and whales from snatching up all the liquidity from the beginning. Finally, the starting capital can be small, saving upfront costs.
What's great about LBP for GuruDAO?
Fair launch for humans.
Better price discovery.
Permissionless and scalable.
In order to set up a LBP launch, GuruDAO needs to set the details and parameters:
Start Date:
End Date:
Duration:
Starting Price:
Ending price:
Minimum purchase amount:
Blockchain: Ethereum
Initial pooled: ____ GURU : _____ WETH
Starting weights: GURU 95%: WETH 5%
Ending weights: GURU 50%: WETH 50%
100% of funds raised during the LBP will be set aside and DAO governed. Using protocol-owned liquidity, GuruDAO will be able to build liquidity on-chain using the native token, $GURU. The DAO also earns trading fees from this liquidity pool that benefits the DAO and token holders.
For reference we can explore previous LBPs on Copper platform:
https://copperlaunch.com/
What is LBP?
A few good articles here for those who aren't familiar with this token distribution mechanism:
There is a great in-depth youtube video about LBP: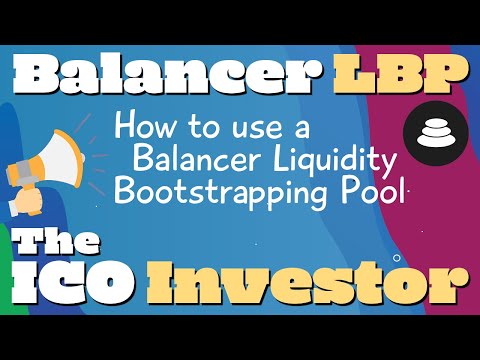 But we are selling voting power to the whales!! OMG!!
We are not. Please read and understand how veToken model works. Liquid GURU token doesn't have voting rights at all. You have to lock GURU token into a vote escrow smart contract to participate in governance.
What's next?
Let's think about LBP parameters for the GuruDAO liquidity bootstrap event. How much liquidity do we need for the start? What would be Starting price and Ending price?