Overview
Similar to most startups, and as a web3 startup ourselves, we're looking to introduce paid subscription plans as we move towards monetization and building a sustainable company for the long run. As with all other decisions we're making as a DAO in public, this document outlines our current thoughts and perspectives on how we would ideally approach building our Paid DexGuru Subscription plans.
So, why now?
Since launching over a year ago, we've been focused with our heads down building out the platform. And although DexGuru has remained in Beta during this time and entirely free to use, we're proud to have been able to build out a trading terminal that consists of the following:
A simple & easy to use interface to interact, browse & filter Token TX data
Data support for 8 prominent chains along with trading capabilities on 7 of them
Token Profile to insights into token activity & holdings distribution
Trader Profile to deep dive and analyze wallet balances & activities
Multi-Charting functionality
At this stage of the DexGuru product, we're confident that the value and functionality provided is strong enough to introduce paid subscription plans for our community members. This will allow our paid subscribers to use DexGuru completely unrestricted and provide them with an edge over the average crypto trader in the broader market, especially as we launch additional on-chain analytical features in the upcoming months.
Please note that this document is NOT the final implementation and is only part of the preliminary steps to gauge and begin a discussion.
---
Goals of Paid Subscriptions
The initial introduction of Paid Subscription Model will be relatively simple, with only one paid plan available, effectively creating two tiers of users - free and paid users. This document will refer to the paid plan as DexGuru Pro, although actual implementation may have a different name.
Monetization and sustainability purposes aside, the DexGuru Pro plan also serves several important purposes for us:
Allow exclusive access to DexGuru Pro features for members to gain a trading edge over the broader market
Create and foster an active tight-knit community of DexGuru Pro users to share insights, strategies, and perspectives
Provide an avenue for power users to have a stronger voice in shaping product decisions
---
Defining DexGuru Pro Features
With DexGuru's platform currently in its beta stage being free and with all features unrestricted to users, deciding how to define DexGuru Pro features will come from an angle of restricting existing features for free users.
In approaching this, we've made sure the limitations on free users are not too restrictive and still enable these users to use the core of the DexGuru product whilst be able to preview what the Pro plans offer. At a high level, we narrowed it down to two possible approaches for Free & Pro users:
Free Users only have full access to all DexGuru features + data for Native Tokens of Chains such as ETH, AVAX, BSC, MATIC & etc…
Free Users have limited access to all DexGuru features + data for all tokens - which is limited by time & other parameters depending on the feature.
Although the first choice may provide free users a completely unrestricted experience for a few tokens, they will be limited to only Price Charts for Non-Native tokens. They may end up resorting to other tools in the market for this type of data.
As a result, the second option seems like a better choice. It will enable free users to explore and use DexGuru features on any token but with a limited depth of analysis.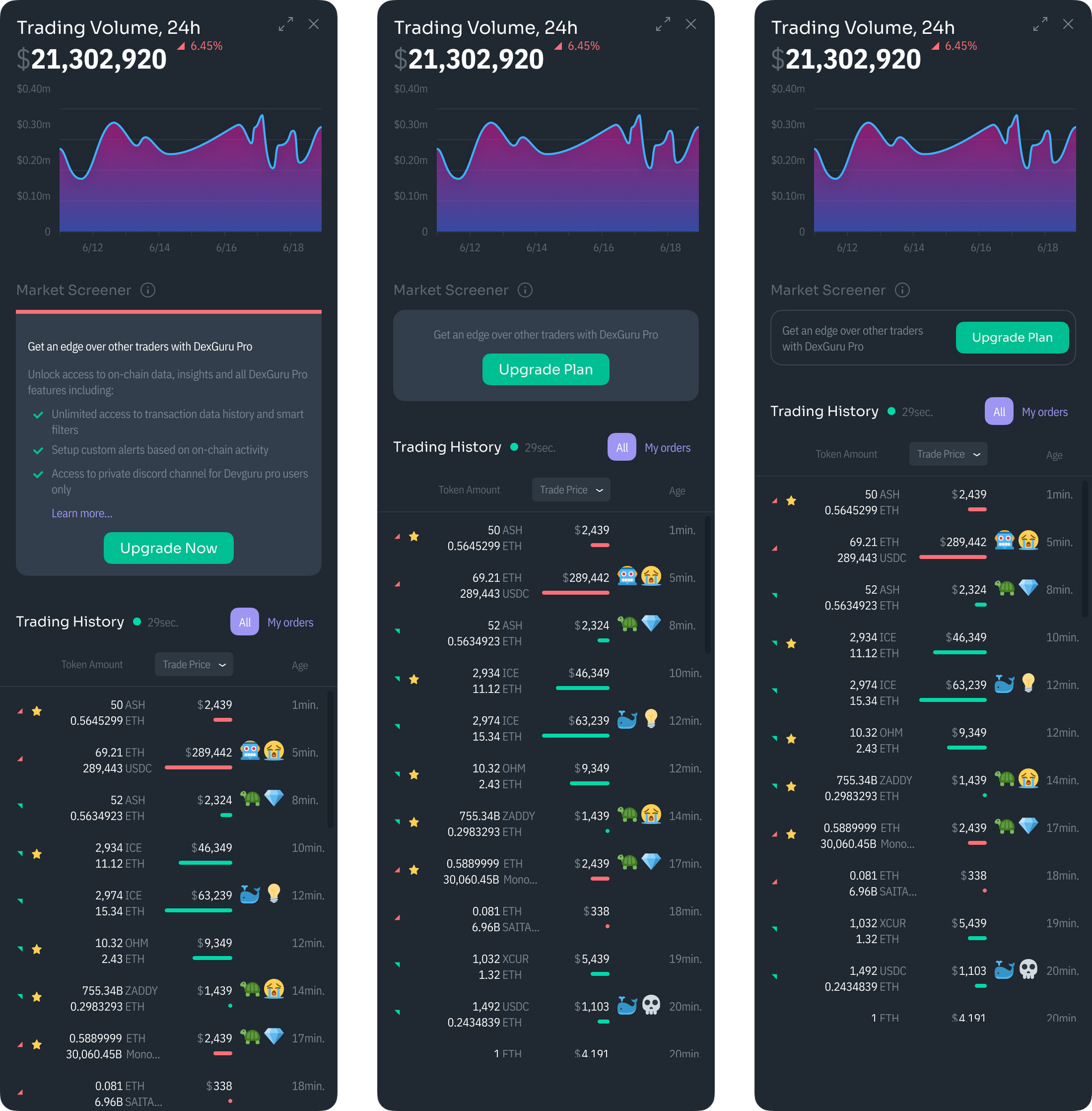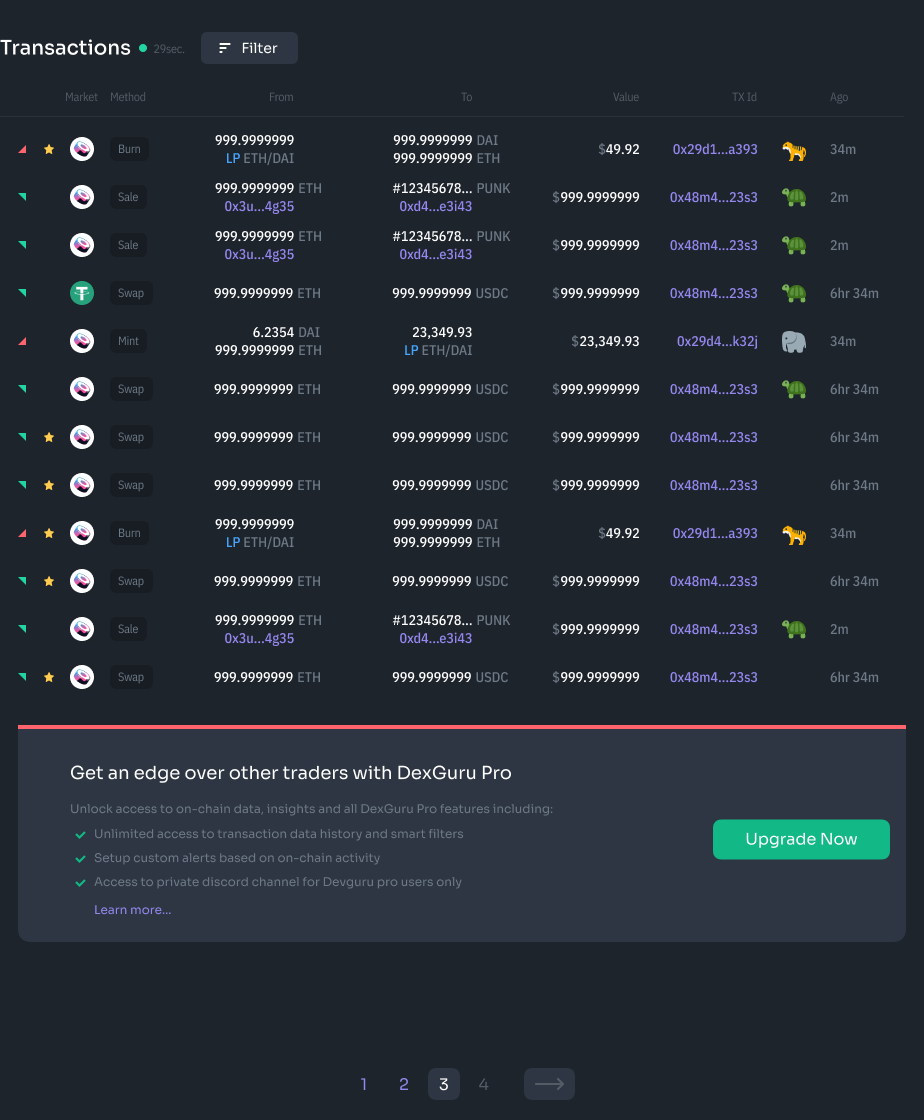 Below is both an example and breakdown of what constitutes "access" looks like between Free and Pro Users taking this approach:
| Feature | Free | DexGuru Pro |
| --- | --- | --- |
| Token Profile | All Tokens (Limited by "X" days of data) | All Tokens |
| Trader Profile | All Traders (Limited by "X" days of data) + Restricted Token Balances | All Traders |
| Expanded Transaction History Sidebar | All Tokens (Limited by "X" days of data) | All Tokens |
| Expanded Liquidity History Sidebar | All Tokens (Limited by "X" days of data) | All Tokens |
| Transaction List Filters | Limited Filters | All Filters |
| Basic Price Alerts | Yes | Yes |
| Custom On-Chain Activity Alerts | None | 25 |
| Market Screener | No | All Tokens |
| Multi-Chart | No | Unlimited |
| Commission Free Swaps | Yes | Yes |
| Private DexGuru Pro Discord Channel | No | Yes |
---
Pricing
To determine appropriate pricing for DexGuru Pro, we looked at a wide range of analytics tools in the web3 space. However, narrowing it down to the tools that focused explicitly on On-Chain data and insights, these were at the top of the list:
Nansen - Standard $149/Month + VIP $1,490/month
Dune - $390/Month
Token Terminal - ~$340/Month
With this in mind, Dexguru Pro plans initial ranges would be between $140-$160/month (~0.035ETH/month at the time of writing) paid monthly. As with most SAASs, introducing discounted pricing for quarterly (~12-15% discount) or annual plans (~20-25% discount) seems likely. At this price point, we aim to target users who are more serious in their trading but at the same time not be too restrictive in the pricing as we know traders all have different portfolio sizes.
---
Closing Remarks
Above was an introductory post regarding our future subscription model, and as with all draft posts, nothing is conclusive or final.
We invite our community to share their thoughts and encourage everyone to participate in the discussion of paid subscription plans.