Background
Guru token will be launched in future to govern GuruDAO. Deciding the right token allocations for a project is crucial, while also being one of the most difficult things to do. This proposal is proposed In order to keep our preDAO members with us, prevent market dumps and fill the treasury for the upcoming DAO goals.
Proposal
Definition
A Token Model is the economy of tokens in the ecosystem of a blockchain project. It goes into detail on the purpose of the token and utility of the token (when and how it will be used, and who will use it), token allocation is a crucial part of the tokenomics, It's vital to choose token allocation not to disrupt the functionality of the GuruDAO. Bad token allocation could bring whale's attention to the system or result in huge market price dumps.
Specifications
Total supply is 100,000,000 tokens.
DAO can decide on how to distribute 60% of the Total supply, Therefore the proposed allocations from The total supply are: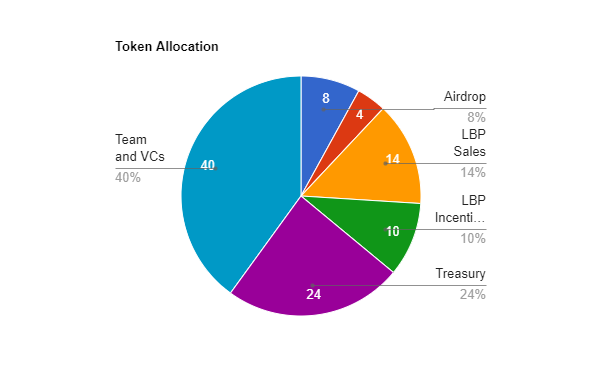 12% for early contributor incentives in form of airdrop: 8% unlocked and available to claim at TGE - 4% veGuru, locked for 2 years

14% for sales on LBP

10% incentives for LBP buyers - claimable in form of veGuru locked tokens right after the sell ends – locked for 2 years

24% goes straight to DAO Treasury
This proposal only decisions upon token allocation. Upon approval by the DAO, This allocations will be implemented in the final tokenomics.
Pros
A fair allocation is considered for early contributors respectfully.

Locked tokens prevent huge market dumps from both LBP buyers and airdrop receivers.

vote-escrowed tokens are locked for 2 years, so all the wallets eligible for the airdrop have almost the same voting power at the start, If they want more vote power they have to lock the other part of airdrop too, this removes a huge part of airdrop from circulating supply, This also applies to LBP buyers.

A great portion of tokens sold on LBP results in huge fund raisings for treasury.

Incentives for LBP buyers results on high demands for the token sale.
Cons
Huge amount of tokens might end up in whale's hands after the LBP but we need their funds to grow anyways.