Summary
The proposal defines the high-level goals of GuruDAO and represents the first attempt to organize community efforts.
Background
We believe that the north star guiding GuruDAO is the path to joint profit. DexGuru is not a charity organization. As decided by the community, "our mission is to create a participatory, community-driven economy powered by the $GURU token that enables the support, development, engineering, and adoption of the DexGuru and related products.". The difficulty that we face is how to shape goals so that everyone in the community can become a meaningful contributor.
The idea is to propose goals that can be fulfilled by groups of highly self-organized people(sub-DAOs) and the broader community.
Proposal
Three entities guide the DAO in organizing work:
Vision

A vision statement describes the organization's purpose and what it wants to achieve.

Strategic Goals

The strategic goals are the greater focus of the organization. It could be a financial focus, social plans, etc.

Objectives

Objectives specify that the strategic goals are measurable, realistic, achievable, and assigned to specific responsible persons.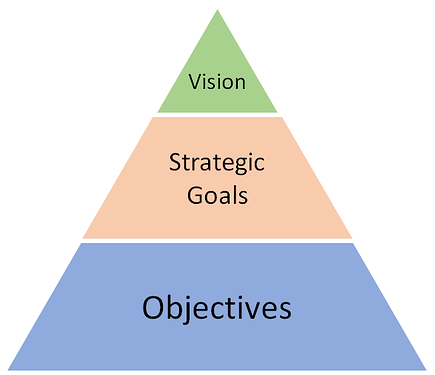 Vision
Under the ratified GuruDAO Manifesto, "Our vision at GuruDAO is to build robust web3 products that people are excited to use. We want the community to drive development and be responsible for the progress of the products built by GuruDAO. "
Strategic Goals
Following our vision, we can specify three strategic goals that unite the whole community from a mid-/long-term perspective:
DAO Building

GuruDAO is still in the very early stage of its development, and so is the whole DAO landscape. GuruDAO should prepare its unique formula/frameworks and processes to accomplish its goals. It's a never-ending process to build/change and become more efficient every day. Since this is a road untravelled, the ideal condition is not a point but a direction.

Product Development

In a fast-changing DeFi world, it's crucial to build constantly. Whether this is to develop a product, launch new ones or adopt new features and protocols. GuruDAO must be a cutting-edge service provider. The community needs to play a vital role in market research and R&D prioritization to ensure that products are developing in the right direction.

DAO Revenue Growth

Whether DexGuru revenue is split between GuruDAO stakeholders or added to the treasury, one of the top priorities is to secure income. GuruDAO will also specify income distribution and work to increase overall profit.
Objectives
Strategic goals are analyzed and broken down into specific objectives. Turning a more extensive plan into smaller objectives makes the task seem smaller and more attainable. To kickstart this process, outlined below is a list of objectives tied to each goal. The community is responsible for turning them into specific, measurable, assignable, realistic, and time-related (SMART) actions. If the DAO disagrees with the objectives, they may propose different objectives and execute them.
DAO Building

DAO Organizational structure
Contribution process
Community incentivization
Education / GuruVersity

Products Development

Product development (Dev Sub DAO responsibility)
Grants for launching new products

Revenue growth

$GURU tokenonomics
Business Development
Marketing
The idea is to propose the potential directions within each goal, including project-based activities, more suitable for sub-DAOs or dedicated contributors, as well as more scalable activities like GuruVersity and Marketing.
Specifications
Pros
The proposal suggests the direction of DAO development and further growth, leaving the community the ability to shape them and specify them in more detail.
The proposal helps set a framework for progress.
Cons
The proposal leaves SMART descriptions of the objectives to further community discussion.
Poll
https://discord.com/channels/779159507967672360/958820909991477318/966369963940134912
Snapshot: Snapshot