Summary
The proposal defines overall GuruDAO tokenomic model, veTokenomic parameters and describes the value capture process.
Background
DexGuru isn't traditional Saas, and $GURU token isn't a traditional protocol governance token. Instead, we want to build first of a kind, genuinely community-owned Product DAO that would develop and deliver great tools for modern web3 traders.
Traditional Saas business cash flow comes from monthly recurring subscriptions that fuel product development and marketing spending. What if we can replace recurring subscriptions with ve-Tokenomic flywheel and DAO-owned liquidity?
Proposal
ve-Tokenomic model allows us to create a long-term alignment between token holders, community, DAO, and the product. The core component of any good tokenomic is a balance between token supply (sell pressure) and token demand (buy pressure). DAO governed with vote escrowed token and controlling own liquidity can achieve perfect balance between supply and demand.
Subscription-based monetization for DexGuru product always was a part of the plan. This is how it will work with DAO and ve-tokenomic. When users purchase paid subscription plan for DexGuru analytics platform, under the hood smart contract purchases $GURU from the $GURU/$ETH pool, and transfer $GURU tokens to a vested time lock safebox in exchange for platform access. This creates constant and predictable cashflow for GuruDAO and $veGURU tokenholders. DAO controls how vesting safebox splits the profits from DexGuru between DAO treasury and $veGURU tokenholders who earn a share of the revenue that the platform pays out.
This system is showcased in the graphic below.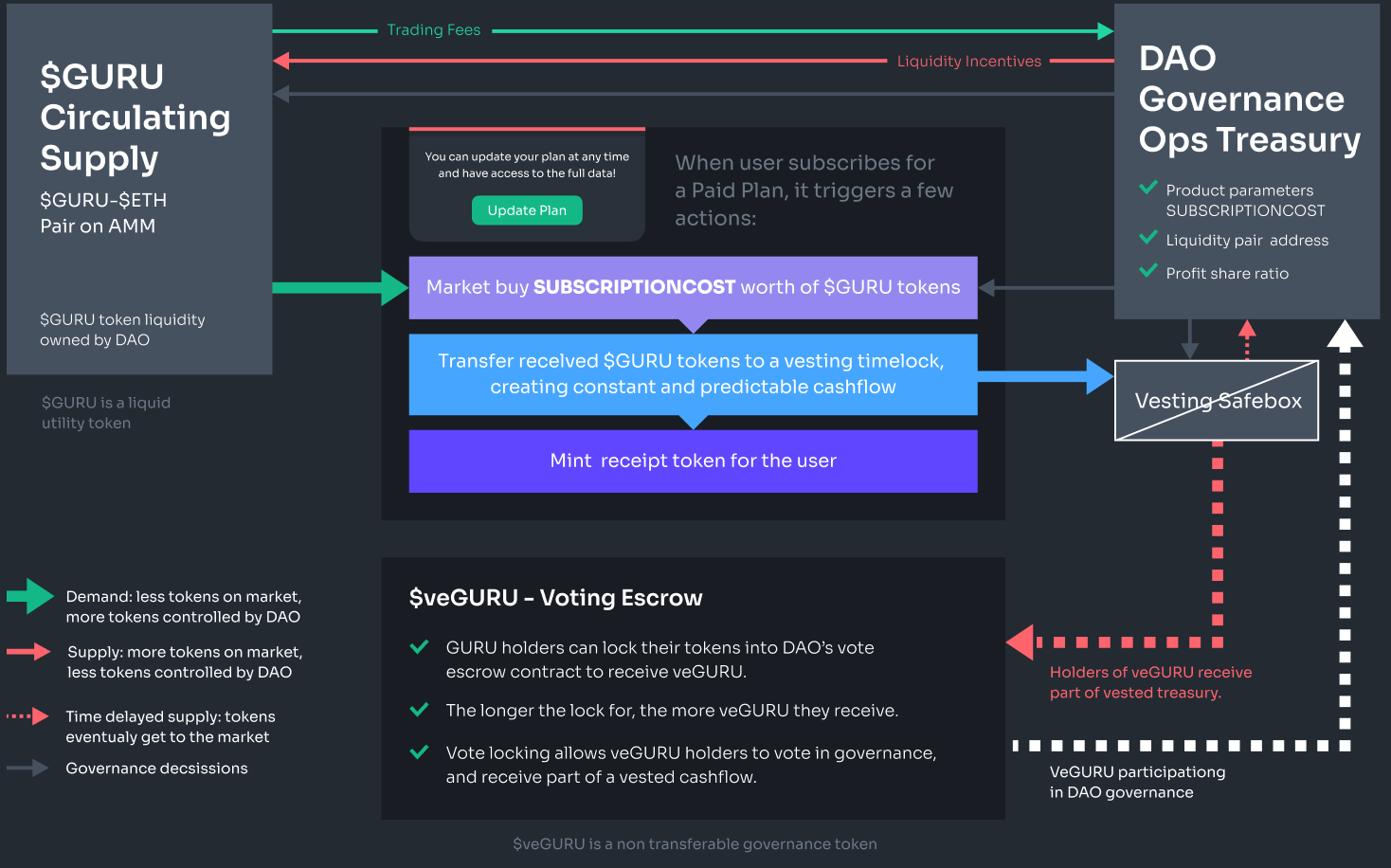 Participating in GuruDAO governance requires that an account have a balance of vote-escrowed GURU ($veGURU). $veGURU is a non-transferable ERC20 implementation, used to determine each account's voting power.
$veGURU is a token that is issued upon the locking of $GURU tokens in vote escrow smart contract. The amount of $veGURU received in exchange for $GURU tokens is dependent on the lock period. The longer $GURU tokens are locked for, the more $veGURU received in exchange. A user's veGURU balance decays linearly as the remaining time until the GURU unlock decreases.
veTokenomics parameters:
The maximum locking period: 4 years
The minimum locking period: 3 months
The locking weight: 4 years - 1:1 $veGURU/$GURU
veGURU token weight decreasing function: Linear
Token type: non-transferable ERC20
For example, a balance of 4000 GURU locked for one year provides the same amount of veGURU as 2000 GURU locked for two years, or 1000 GURU locked for four years. The voting power is equal to the amount of veGURU on a user's balance.
Specifications
Initial Product parameters and values such as monthly subscription cost, trading pair address, profit share ratio, etc, will be defined in a different proposal.
Pros
veTokenomics provides a great balance of supply and demand and aligns with the proposed value capture approach.
DAO controls decision making on supply and demand and could find a balance
DAO-owned liquidity aims to maximize liquidity and improve capital efficiency and is a revenue-generating asset on its own.
Token holders have the ability to directly accrue their share of economic benefits.
Cons
A different tokenomics model maybe also applicable but it requires additional research.
Poll
https://discord.com/channels/779159507967672360/958820909991477318/968575477981790219